Day 2 at OpenText's Enterprise World 2015. The excitement is higher than the temperature outside. As a 16th time attendee at OpenText Enterprise World, I can say with confidence: it only gets better. It happens but once a year and is the biggest marketing investment, so we all need to ensure that it is as successful as possible. So in order for all of us to benefit from this event, we at Demodia have prepared some helpful materials as well as this post, outlining some of the best breakout sessions and events you should attend. If you have enough OTEW on your mind, there is plenty to do in Las Vegas besides gambling. After all, you need to go back with a good story. And if the only reason you are in Vegas is to meet your favorite actor Mike Myers, make sure you make it to the end of this post.
Not sure how to handle business events? Check out our free guide How to Win Customers and Influence People: The Complete Business Events Guide.
In a recent blog post, we shared different companies' views of OTEW. Smaller companies like Red House and Wisteria stated that the most important feature is the networking opportunity and Chris advised to "go to the breakout sessions that are most relevant and just talk to people there."
So don't miss the Managing Change in a Controlled Document Environment breakout session (ECM-503). It doesn't matter whether you are into finance, life sciences or software - big organizations have to manage large amounts of documents. Not being able to do so in an efficient manner can result in costs and liability. So whether it's policies, procedures, labels or contracts, changes in documents is a challenge that needs to be met. GCI, OpenText and Infinote will demonstrate how to do it in a Content Server environment. This will enable you to rapidly auto-generate impact assessments using your existing document change control process. If you need to send documents for parallel review and automatically merge all changes and comments into a single document for final review and disposition, then attend this breakout session. Last, but not least, you will learn how to automatically identify similar content from Microsoft Word stored within Content Server.
Also on Thursday, you will learn more about Millennials and what the Finance Services industry can do to attract them. Even if you are not into banking and finance, you will have to face the Millennials (some are probably even working for you). So come to hear how others are meeting the challenge. Fifteen minutes can save you time and money in the future. Join us at Expo Hall - Digital Disruption Zone Theater at 2:15 pm.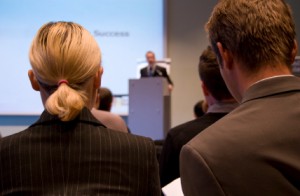 Attend ECM-416 to hear the Senior VP of Research at Digital Clarity Group, Connie Moore, describing how you can create an Enterprise Information Management (EIM) strategy that supports a holistic approach to business transformation. If you want to transform your business, you need to be ready to disrupts the digital customer experience both inside and outside. So get ready for change: from customer engagement strategies to your internal business processes. Transform Customer Experiences by Going Digital Outside and Inside.
Bigger companies like Digital Mind, Global Cents and capSpire go one step further and are sponsors of OTEW, so you can find their booths and meet them first-hand. Here is what experience has taught them over the years.
Clearly define your goals.
"Unless your primary goal is brand awareness, avoid spending money on fancy booth designs, entertainers and give-aways," says Rinalds.
Plan ahead.
Gunn Kristin advises to, "Set up a goal of why you are attending and what you expect to bring back, then plan in advance which sessions you want to attend, and who you need to meet and engage with". Trent Amos, VP Sales & Marketing at capSpire comments, "We ensure that our representatives schedule meetings with their key clients prior to the event."
Have a clear message!
You will have only a short time to get your point across. Use it wisely.
Thrilled about the keynote speaker? You should be! Michael John "Mike" Myers is a Canadian (who knew they didn't export only OpenText, maple syrup and hockey?) actor, comedian, screenwriter and film producer, who also holds British and American citizenship.
From 1989 to 1995, he performed on Saturday Night Live. Since then he has played the title roles in the films Wayne's World, Austin Powers, and Shrek. He also directed the documentary film Supermensch: The Legend of Shep Gordon.
What you might not know is that Myers is a Dungeons & Dragons player and has participated in the Worldwide Dungeons & Dragons Game Day in 2006. If you are looking for an icebreaker to use with him, casually mention the Toronto Maple Leafs of the National Hockey League and you will have something to talk about Or if you prefer soccer, you can talk about Liverpool F.C. Myers himself has played for the Hollywood United F.C. celebrity soccer team.
Who else are you excited to meet?