Blogs are one of the best ways to drive traffic to your website and build trust with your customers. Businesses that harness the power of blogging are seen as industry experts while seamlessly nurturing leads into being customers. However, you may not know where to begin with your first blog or even how to start one. This could leave you in a very disadvantageous position - while your competitors solidify their relationships with your potential customers, you're stuck trying to get the most basic form of content marketing to work.
Forget those feelings of confusion and hopelessness. This blog will help set you on the right path to starting a blog and writing your first article in 5 simple steps. We'll cover how to create a blog, how to write your first article, and how to promote it.
5 Steps to start a business blog
A blog is critical to any digital marketing strategy - thankfully, building a successful business blog is easy. All you have to do is follow the five simple steps below, and you'll be up and running in no time.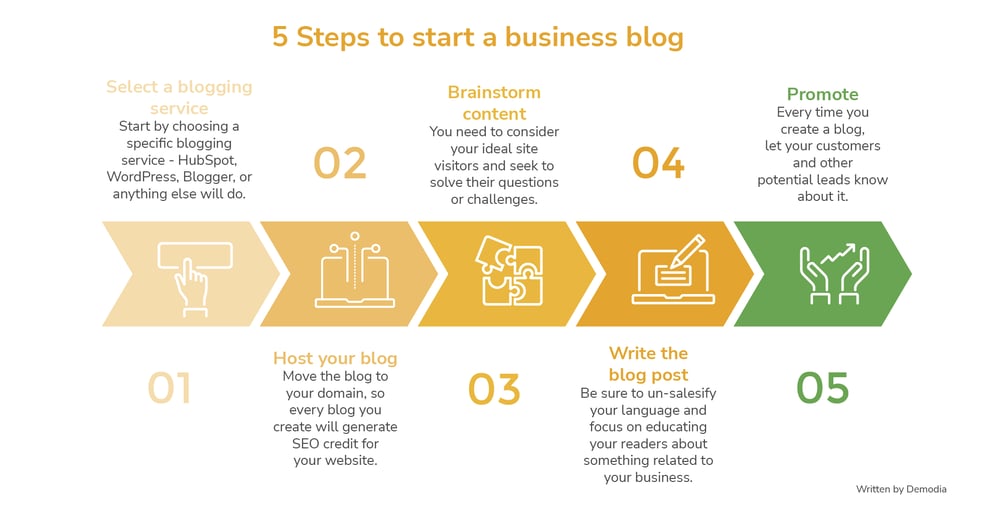 STEP ONE - Select a blogging service
Having the right tool for your blog will go a long way to simplify the process. Therefore, start by choosing a specific blogging service - HubSpot, WordPress, Blogger, or anything else will do. The entire process should be easy and take no longer than 5 minutes.
STEP TWO - Host your blog
Part of the power of regular blogging is the SEO credit you get. However, leaving your blog on its original domain (i.e. mybusiness.wordpress.com) won't do anything for your search ranking. You have to host it on your main website.
First, move the blog to your domain, which is usually a paid service. Then, contact a developer to set up your blog on a subdomain or page of your main site. From there, every blog you create will generate SEO credit for your website.
STEP THREE - Brainstorm content
You have your blog, and it's hosted on your website - so you're set to start writing blogs? Not quite yet.
Your blog is only as good as the sum of content you put on it. Fill it with good blogs, and you'll get good results. Fill it with bad blogs - and you'll just be wasting your time. This is why brainstorming blog content ideas is so important.
You need to consider your ideal site visitors and seek to solve their questions or challenges. Think of the keywords they would use to solve those challenges and incorporate them into your blogs.
Once you have the keywords you're going to focus on as well as the overall topic or question you're going to address, you can start writing your first blog.
STEP FOUR - Write the blog post
You're about to write your first blog post - congratulations!
Be sure to un-salesify your language and focus on educating your readers about something related to your business.
Try to link to other resources online and be as helpful as possible - remember, readers will only care about your business once they fully understand their situation.
In addition, use bite-sized chunks of text with charts or graphics wherever you can use them. This will help make the reading process easier for your visitors. At the end of every blog, be sure to include a call to action or some kind of directive for your readers to accomplish next. This is how you'll pivot from educating your readers to nurturing your leads.
Now, all that's left to do is click publish, and it's out there for the world to see.
STEP FIVE - Promote
Your blog is live and starting to get attention from your customers - but if you really want to rake in the views, you need to promote it.
Every time you create a blog, let your customers and other potential leads know about it. Use every channel you have at your disposal to get the word out - social media, newsletters, email marketing, word of mouth - you name it.
Once you promote your blog, you'll notice a ripple effect of new readers - and eventually, new leads.
Blog your way to the top
Starting a blog is easy - the challenge comes in when trying to promote your blog or consistently update it with fresh, new, and interesting content. This is where having a dedicated digital marketing partner to guide you comes in handy.
Getting the right partner is the first step toward effective digital marketing and blogging. It saves you time, money, and frustration and lets you find success even without deep knowledge in setting up online campaigns. We know how important blogging is today, and how confusing it can be to those who don't have the experience to leverage it for business. As a small company ourselves, we've gone through this process ourselves and found a way to succeed. That's why we've spent the last 12 years planning and implementing award-winning digital marketing campaigns for B2B clients worldwide.
Contact us for a quick 30-minute meeting and we will present you with a digital marketing campaign plan with the right messages, channels, audience, and content to use, to assure your success online.