3 minute read
Marketing is a give-and-take relationship
It's challenging to get people to part with their information, even if you promise to make their experience better. Digital marketers are all too familiar with this challenge as nearly every digital marketing effort relies on some kind of information about your leads.
Gated content is one way to get large sums of information about your leads while simultaneously nurturing them towards a sale. This blog post will explore what gated content is and how you should use it.
What is gated content?
It's estimated that as much as 80% of B2B content marketing assets are gated.
Gated content is any content that cannot be accessed for free. Usually, users who want to access gated content have to fill in a form, purchase a subscription or complete some other action before accessing the content itself.
The purpose of gated content is to encourage leads to offer something of value in return for something they find valuable. Marketers use gated content to get details such as email addresses, lead insights, and other valuable resources from leads.
While gated content is excellent for getting customer insights, gating your content may not be the best strategy for maximising the viewership of your ebook or report. For example, requiring prospects to complete a form to download your ebook can decrease downloads drastically because some online users are still not comfortable sharing their personal information in exchange for your offer.
What kinds of gated content can you use?
The types of gated content you use should always provide some kind of exclusive value to your audience. No visitor wants to give away their information for free, so the gated content you use must be in-depth, relevant, helpful, and exclusive.
Having said that, the best kinds of gated content that marketers typically use include:
Whitepapers
Webinars
Exclusive videos
Research papers
Cheatsheets
Checklists
Playbooks
eBook guides
While the above are typical examples, you can offer nearly anything as gated content as long as you can promote how valuable and exclusive it is for your audience.
What should you gate your content with?
The perceived value of your content should always be proportional to what you ask for. The more in-depth or engaging your content, the more you can from your leads. While gated content could demand subscription services or one-off payments, we'll examine the most common - information through forms for the purposes of this blog.
Forms on your website are the "gates" that stand in the way of your gated content. Before your audience can download or consume the content, they should have to fill out a form to do so. This helps marketers build email lists, launch future nurturing campaigns and gain insights on their leads.
However, marketers should not ask for too much information in their forms, or they risk scaring leads away. Ultimately, you want your form to be a barrier that can easily be overcome to access the content. The more information you ask for on a form, the higher that barrier is and the fewer leads you're likely to get. Thus, you should always seek to strike a balance between the amount of information you ask for and the number of leads it's likely to generate.
A form should ask for, in order of essential to non-essential information:
Email addresses - used for nurturing campaigns, follow-ups and email lists.
Industry - used for profiling and customer insights.
Names - used for personalisation.
Reason for interest - used for profiling and customer insights.
Company - used for customer insights.
Location - used for profiling.
Average revenue - used for profiling.
You can practically ask for anything on a form, but as a general rule of thumb, try to keep the amount a lead has to fill in between 3-4 fields.
Here are a couple of examples of the forms for your gated content.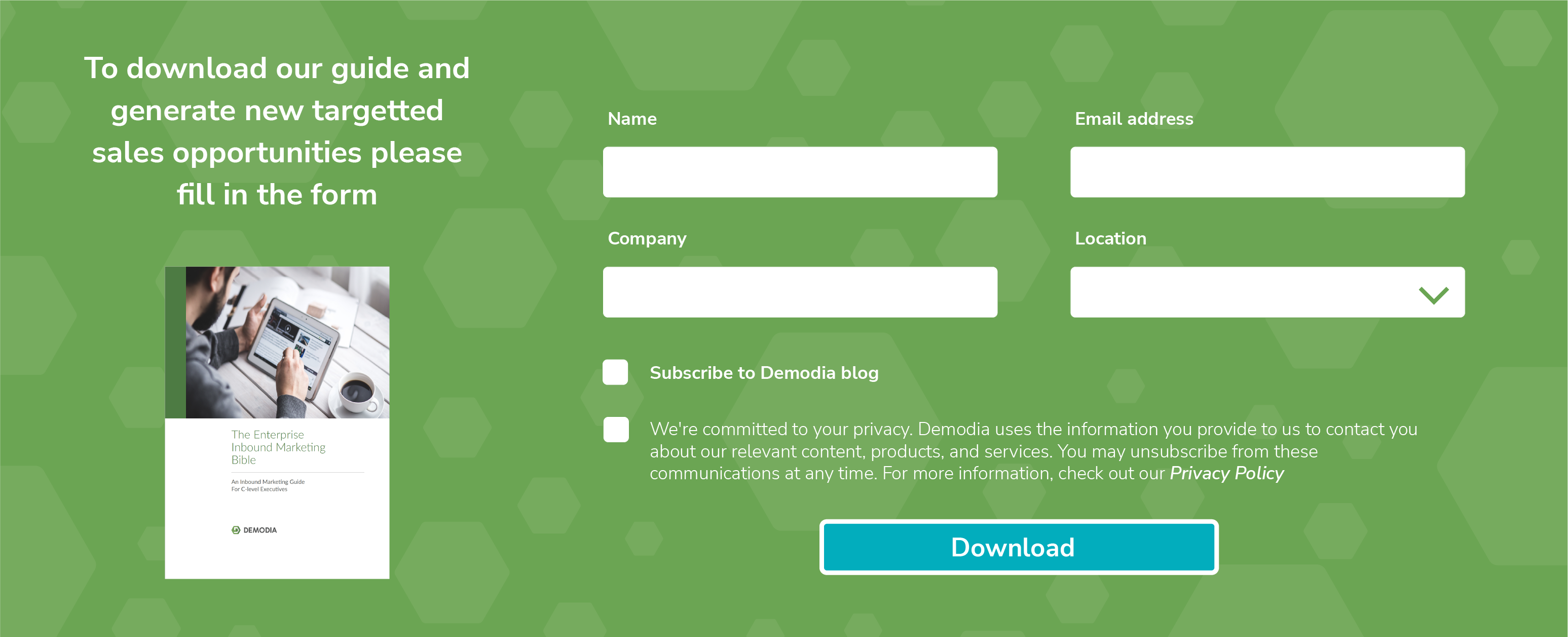 Sample of 4 fields form
Sample of simple form with a minimum amount of fields
Remove the gates to your success
Gated content is a tricky subject because it can drastically reduce the amount of interest a piece of content generates. People will always feel protective of their information, so it's up to us as marketers to always make it worth their while and create the best content possible to be gated.
At Demodia, we've seen so many marketers become despondent with the amount of interest their content generates. We understand that it can be frustrating to spend so much on content creation without seeing any results - which is why we've spent over a decade perfecting the best content generation and lead management approaches for our customers, helping them turn their content pieces into customer-generation assets.
Contact us now, and we'll meet with you to discuss your customer acquisition goals and present you with a plan to help you achieve them.