Create your own lead magnet in 3 easy steps
You want to attract visitors to your website, but you have no idea how. Or perhaps your website generates traffic, but you don't really know how to begin to use it to your advantage. We've seen so many digital marketers struggle to connect with their leads or even do something as simple as building an email list, making them feel frustrated and like their website was a waste of time and money.
The truth is, these marketers were very close to utilising their website traffic for success. They just needed some direction and the correct use of lead magnets. Once we helped them perfect this, they not only attracted more leads but were able to start the process of converting them into customers.
In this blog, we'll cover exactly what a lead magnet is and simple steps on how to create your own.
What is a lead magnet?
Marketing is no longer a process of simply shouting your message out to prospects and hoping for the best. It has become a game of give and take. If you want anything from your customers, be it a sale, their email address or their attention, you have to give them something in return.
Lead magnets are what you give them. They're the perfect way to give something to your website visitors in exchange for their information. From any downloadable assets, free trials to innovative online audit services, you can offer anything that can be downloaded immediately or received via email. If it hits the target, visitors subscribe, and you earn engaged, willing leads.
How to make your own lead magnet in 3 steps
In this section, we'll talk about how you can create your own lead magnet no matter your website, industry, or size of your business in three easy steps. If you follow these steps, you should be creating pieces of value that you can offer to your leads and start the process of turning them into paying customers.
STEP 1 - Start with the what
Before you create anything for your customers, you need to know what to create in the first place. The best lead magnets are ones that offer value to your customers rather than puff pieces about your business. Remember - this is the start of your relationship with your customer, so you want to make it about them, their goals, and their challenges.
A few good questions to find topics of value are:
What does my customer want to achieve?
What challenges does my customer face?
What comparisons do my customers need to perform?
What research could help my customers?
What successes (or failures) have you witnessed that your customers could learn from?
STEP 2 - Choose the medium
Infographics, white papers, blogs, webinars, cheat sheets, and guides all have very different effects on the reader - even when presenting the same content. It's for this reason that you must select which medium you use with care.
You'll want to consider a few factors:
Brevity
In general, if you can keep your lead magnets short, do it. However, many pieces of content can't fit on a single-page infographic. Therefore, always be on the lookout for how you can condense and simplify your lead magnet.
Cost to produce
A deep dive into consumers' buying habits per demographic and country may sound great, but that will probably cost more than the value you get from your leads. A good lead magnet is like bait - you always want to offer something cost-effective to capture something more valuable.
Depth
Depth plays into the previous two factors and will generally determine how expensive something is to produce as well as how brief you can make it. The deeper it goes, the more expensive and less brief it becomes.
STEP 3 - Put it on your website
Now that you have your lead magnet, you should put it on your website. Be sure to put it behind a form asking for valuable information from your leads (usually the most important being email address) and to link to it. You can link leads to your lead magnet landing page through other pages on your website, campaigns, promotions and social media.
4 Great examples of lead magnets
Now that you know what lead magnets are and what you can do with them, it's time to take a look at some examples of lead magnets that you can use for your website.
In general, lead magnets fall into four main categories:
Text content
Video content
Visuals
Offers
Let's examine each in detail and what they could be used for.
Text Content
This category refers to pieces of content that can be read. Things like reports, whitepapers, blogs and cheat sheets are all examples of text content lead magnets.
Lead Magnet Example - Whitepaper
Whitepapers are extensive, text-based content pieces that focus on exploring a question or topic in detail. They can be used as a collection of research or even as a guide. While blogs are published for the public to see, whitepapers require more investment due to their depth. This makes them ideal lead magnets to attract educated or qualified leads.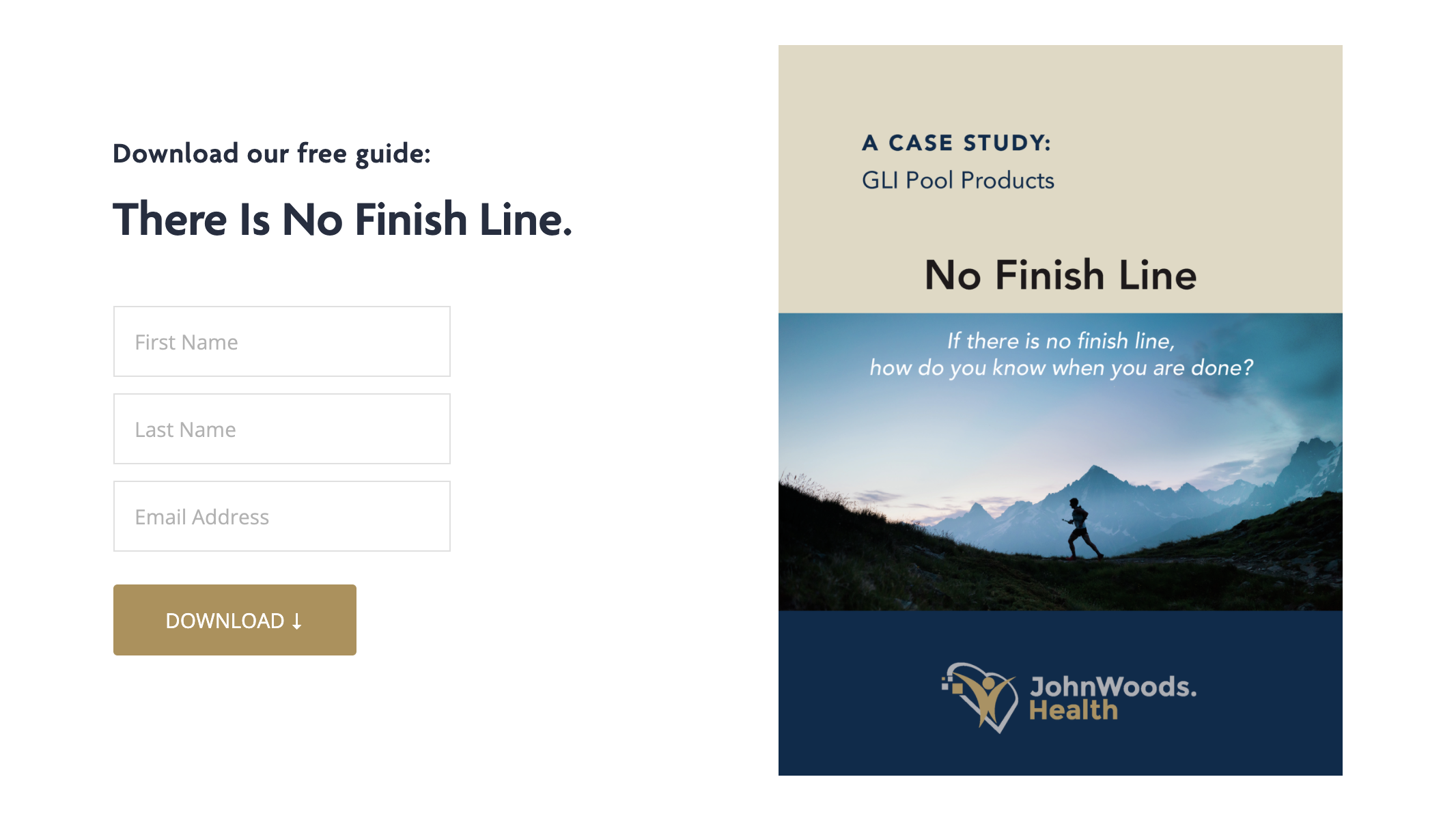 Source: www.johnwoods.health
Video Content
Gating videos is a great way to offer something of value without requiring the level of investment of a whitepaper. Videos like recorded webinars, tutorials or even data-based documentaries can all be used to offer insight for your leads.
Lead Magnet Example - Webinars
Online webinars where you discuss a topic your customers are interested in can position you as an expert, help you network and work as a lead magnet at the same time! Webinars can provide extra value as you can host the webinar then offer it as a download later. This helps you gain leads when you host and turn it into a lead generation tool later.
Source:clearbrand.com
Visuals
Visuals include image-based data sheets, infographics and any other medium that relies upon design more than a copy. Visuals require the least amount of commitment and have the potential to be easily and quickly shared.
Lead Magnet Example - Infographic
Infographics have the most potential to go viral through channels like social media. Since prospects only need to take a glance at the content to understand it, they are suitable for both nurtured leads and new leads, making them a valuable lead magnet.
Source:myplate.gov
Offers
For in-person or digital events as well as exclusive discounts and training courses, offers offer high value and include the aspects of exclusivity and scarcity. While this makes them extremely attractive for leads, they do require sacrifice on behalf of the marketer.
Lead Magnet Example - Consultations
Free consultations are an excellent way to demonstrate your value and make a pitch to your customers while offering value. As a lead magnet, they perform very well due to the exclusivity and scarcity presumed, but enable you to make your case by meeting face-to-face.
Source:epheshpilates.com
Draw your leads to you
If you need more inspiration for great lead magnet ideas, look no further than our comprehensive list of 35 lead highly effective B2B magnets - but you may need a little more help.
Getting the right partner is the first step towards building lead magnets and having an exemplary digital sales and marketing programme. It saves you time, money and frustration and lets you find success without the skills and know-how to set up a modern campaign. We know how important an integrated sales and marketing campaign is today, and how limited budgets can hinder this. As a small company ourselves, we've gone through this process, but found a way to succeed. That's why we've spent the last 12 years planning and implementing award-winning integrated campaigns for B2B clients worldwide.
Contact us for a quick 30 minute meeting and we will present you with an integrated marketing campaign plan with the right messages, channels, audience and content to use, to make success an assurance.