Create a content marketing strategy in 5 steps
Today's consumers have a big appetite for elevated brand experiences. They expect to receive personalised content at the right time by the right channel. It's up to us as marketers to push the boundaries of creativity and serve up campaigns that captivate, resonate, and serve a purpose - or we risk our competitors taking our customers.
One of the best ways to do this is through a well-developed content marketing strategy. In this post, we'll explain why developing a content marketing strategy is key, the steps you need to take to create a robust content plan, the channels you need to use, and the available content types.
5 Steps to Content Marketing Success
Your potential customers can be found anywhere and consume content on nearly every device. This means that your content marketing has to be available everywhere and flexible enough to suit any device. What's more, is that each of these pieces of content needs to fit into very different stages of the decision-making process for your prospects.
Today, we call this an omnichannel approach to content nurture marketing. While this can be overwhelming for marketers, you don't need to worry. We've created an easy 5 step process to help you plan and develop a modern, omnichannel content marketing strategy.
Here are the steps:
Step 1 – Identify your Target Audience
Step 2 – Design the customer journey
Step 3 – Map the customer journey
Step 4 – Map your content to the journey
Step 5 - Create your content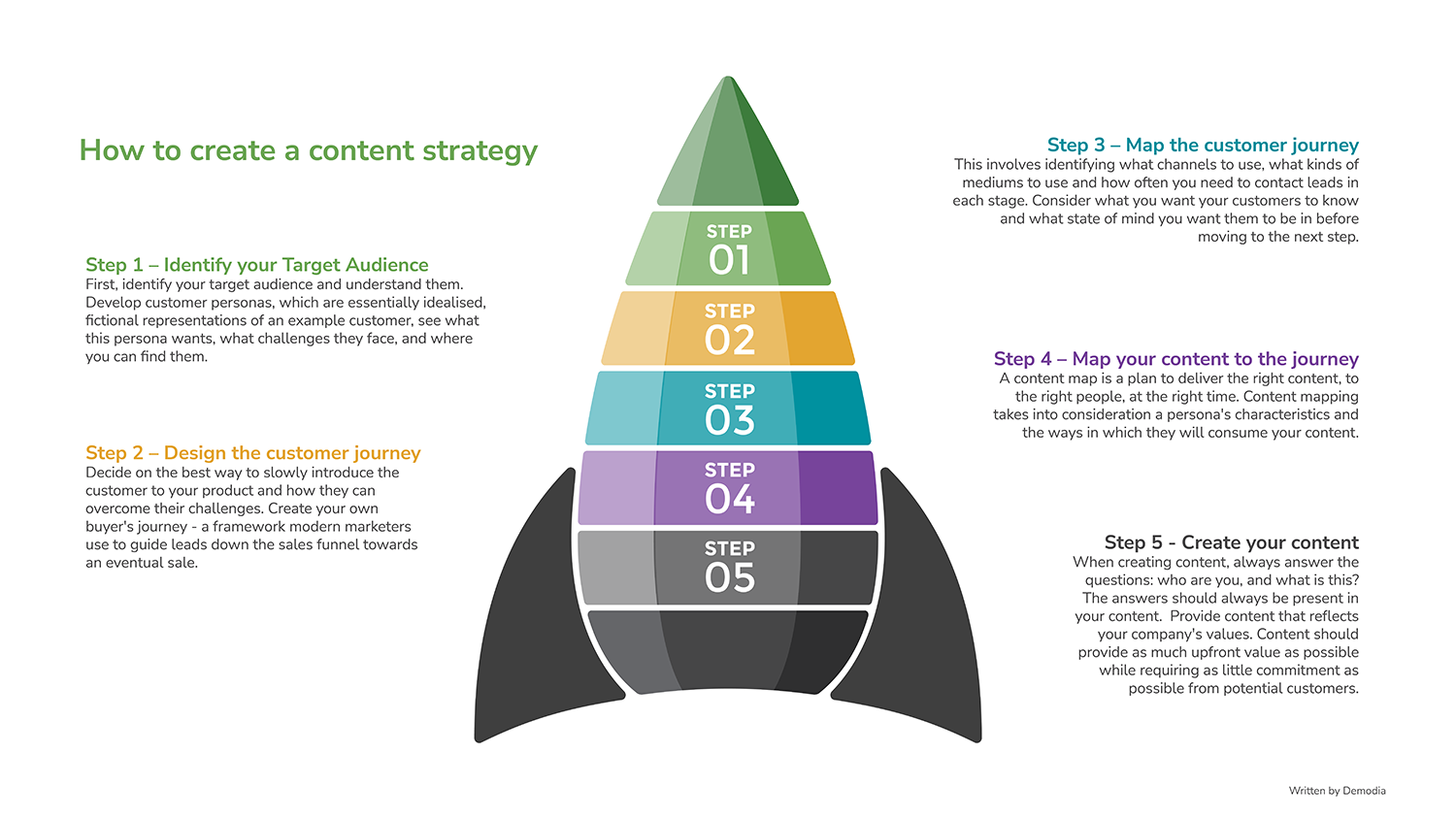 Let's take a closer look at each.
Step 1 - Identify your target audience
You know whom you're selling to, but do you know what makes them tick?
Step one of our content marketing strategy involves identifying your target audience and understanding them.
In this step, we will develop customer personas, which are essentially idealised, fictional representations of an example customer. It's a good idea to set up "facts" for each persona that you can generally take for granted.
Some of the elements you can consider include:
How much the persona earns,
How old they are,
What job do they have
What their responsibilities are
Where they're from
What language do they feel comfortable with
Where they get their news
The most important elements to establish are what this persona wants, what challenges they face, and where you can find them. These will inform the next steps.
Step 2 - Design the customer journey
Now that you understand your customers, you must decide on the best way to slowly introduce them to your product and how they can overcome their own challenges.
The Buyer's Journey is defined as "the process buyers go through to become aware of, evaluate, and purchase a new product or service." In other words, it's a framework that modern marketers use to guide leads down the sales funnel towards an eventual sale.
For your content strategy, you'll create your own buyer's journey. While each journey is different depending on how much nurturing your customer needs and the complexity of your product, they all usually follow the same steps, which are:
Awareness - highlighting your customers' challenges.
Education - informing them what they can do about it.
Consideration - letting them know more about your product.
Decision - driving them to a sale.
Implementation - helping them use your solution.
Generally, think of your own products and customers. Ask what challenges your product can solve for your customers and match it to the above stages. In the next step, we'll establish rules on how customers move between the stages and what channels you can use to deliver your content.
Step 3 - Map the customer journey
In step 3, you should visualise and understand how you will accomplish the customer journey you have created in step 2.
This involves identifying what channels to use, what kinds of mediums to use and how often you need to contact leads in each stage. For example, you may discover that your ideal customers spend a lot of time on social media. Videos, infographics, and image-based media tend to perform well on social media so that you can centre your content around those for the awareness stage.
Moving into the education stage, you may decide to increase the depth of your content. To do that, you may need a blog and website to host it. From there you can encourage them to take a free consultation or subscribe to a mailing list for further nurturing in the consideration and decision phases.
In this step, you will also have to decide what signs a lead must show before moving to the next step. Consider what you want your customers to know and what state of mind you want them to be in before moving to the next step.
For example, you want your customer to have a basic idea of your solution before you move them towards considering competitors (education to consideration). Likewise, you want them to understand your competitors and what makes you better before they make a decision (consideration to decision).
Finally, you should set up rules for what disqualifies a lead from your marketing. Perhaps they do not have the buying power you need, are in the wrong industry, or are simply disinterested. Ways to gain these insights include how they respond, how engaged they are, and what piece of content they interact with.
Step 4 - Map your content to the journey
In this step, you'll create a content map.
A content map is a plan to deliver the right content, to the right people, at the right time. Content mapping takes into consideration a persona's characteristics and the ways in which they will consume your content.
You want to map your content to the stage it's most suited to. For example, content found in the first few stages of the buyer's journey is attention-grabbing, easily consumable, and valuable. They tend to be engaging, buyer-centric, snackable and visual.
However, when drawing closer to the end of the buyer's journey, your content should gradually become more educational, in-depth, product or solution-focused and more specific than generalised.
For this reason, you generally want infographics, videos, images and social posts to appear at the beginning of the buyer's journey and whitepapers, consultations, evaluations, data sheets, and research papers to be presented at the end.
Step 5 - Create your content
Now that you know whom you want to appeal to, where it will be presented to them and how it's time to actually create the content itself.
When creating content, always answer the questions: who are you and what is this? The answers should always be present in your content. We recommend the following tips for the most successful content:
Provide content that reflects your company's values
Content should provide as much upfront value as possible while requiring as little commitment as possible from potential customers
Try to remove sales pressure
Always seek to inform or educate, even near the end of the journey
Always present a solution, preferably your product
Let's take a look at some of the content you may select for your content marketing strategy.
Social Media
Advertising through social media (such as Facebook and LinkedIn) is an effective strategy for targeting top/mid-journey prospects with short text ads that include calls to action. Consider displaying targeted ads that lead them to highly relevant white papers, eBooks, and other gated content.
This makes social media an ideal channel to help facilitate the buyer's journey.
Infographics
Infographics are the perfect awareness stage content because they are so easy to read, share and understand. Infographics should contain key points, statistics, and ideas. It's kind of like an outline, but a bit more specific.
Additionally, you could take an infographic and create a longer piece of content from it or create an infographic from a longer article. This way, you recycle your content for maximum efficiency and effectiveness.
Videos
Videos are an excellent opportunity to show the people and personalities behind your brand. They make your brand seem more approachable and are easily digested by customers. There are many ways that video content can be used, but they're often the most effective during the awareness stage.
Blog Posts and Articles
This type of content is informative without being pushy and can usually be found with a simple Google search. Blogs and articles can be well-suited for most stages beyond awareness and before implementation. Remember, if you use SEO, you will get your website ranked higher and therefore make it easier to access your content.
In some cases, a blog strategy can be complex when coming up with new ideas and areas to explore. To tackle this challenge, you can create loads of topic ideas by making a list of the questions and concerns that your potential customers might have before making a purchase and addressing them in your blog.
We've written on this topic a few times before, so consider clicking these links to check out our blogs if you need more inspiration.
Mapping content for successful lead nurturing
Let's get creative!
A content marketing strategy may seem daunting at first, but if you do the appropriate planning beforehand, it becomes much more manageable. Once you implement the right strategy, your leads will come to you - as long as you stay relevant, interesting and approachable.
Getting the right partner is the first step towards effective content marketing. It saves you time, money, and frustration and lets you find success without the skills and know-how to set up an online campaign. We know how important content marketing is today, and how it can be confusing to those who don't have the experience to apply it. As a small company ourselves, we've gone through this process but found a way to succeed. That's why we've spent the last 12 years planning and implementing award-winning content marketing campaigns for B2B clients worldwide.
Contact us for a quick 30-minute meeting and we will present you with a content marketing campaign plan with the right messages, channels, audience, and content to use, to assure your success online.