Why?
Information is power. Power to learn, do and grow. Guides.co is a social platform that will give you the chance to share the expertise you have and learn from others. It is a place where people meet to grow and help others to grow.
The team behind Guides believes that publishing has been dehumanised and content has become just another item to be consumed by the masses. This hurts both the author and the reader: the author doesn't get feedback, while the reader cannot interact with the author and ask all the questions that need to be asked. Guides are here to start that dialogue.
Reading a blog or watching a video is a monologue, an interaction with a piece of content, not a person. A "guide" is something that doesn't necessarily possess all the knowledge; the person who created it does not have to be a teacher, mentor or a coach, but a person who wants to share experience and know-how. Guides are for people who are seeking help, sharing useful things, discovering new skills and connecting with interesting people.
How?
Guides.co is a user-friendly platform that makes publishing content a pleasant experience. It comes with built-in editing tools, which are designed to refine your work. The format itself is really easy to navigate. Furthermore, it is mobile friendly. Guides.co is a flexible platform that allows you to refresh your content and it even notifies your subscribers when changes have been made. You can add video, audio and embed media too.
How much?
The platform itself is free for casual browsing and downloading some of the guides. It is up to the owners of the content to decide whether to put a price or make it available for free. For companies, Guides.co provides tempting packages.
Our favourite feature is definitely the social aspect of Guides. You can share the whole guide or a part of it via your preferred social media channel. You can also leave comments for the author and the viewers to see (it's all about that dialogue). Thus, Guides encourages you to build a community.
Additional features include the ability to check who is viewing your guide, what content they are reading and where readers are commenting. You can also generate reports.
Guides also provide templates, interactive features, and real-time updates, so that users have a complete all-in-one solution.
When?
Anytime you want. Readers don't have to download anything and the content is readily accessible from their computer, phone or tablet. And if your readers have left off before finishing your guide, the platform will remember where.
What?
Publishing content has never been so easy and effective.
Here are some suggestions for using Guides.co:
Lead Generation: use content marketing to create valuable content and find prospects. Publish a library of guides that will engage users and guide them through the buying cycle. Use the custom reports to know when and how leads are engaging with your content.
Employee Guides: create guides and training manuals that can be used more than once. It is easy to keep them up-to-date and your employees will access them quickly for reference.

Real-time Customer Content: a lot of professional services companies are using Guides.co to deliver branded reports, user manuals and strategic documents. The best part? You can get complete feedback and real-time content updates.
Where?
Just click on Guides.co, register with your email and join the dialogue. The topics range from startups and entrepreneurship to software, from education to enterprise, from lifehacks to careers. Because information is power... to learn and grow.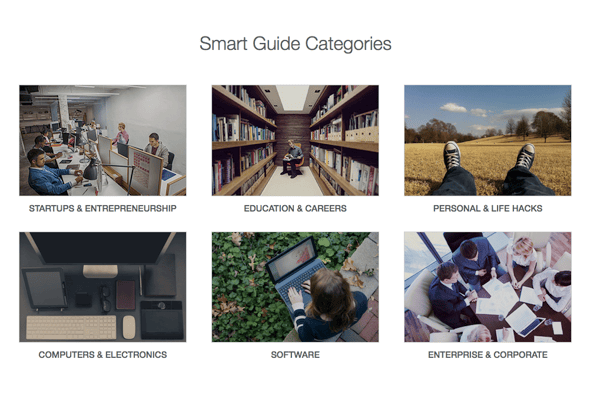 Go ahead and explore the opportunities this amazing platform is giving you! And as always, we are here to to assist you if you need an extra hand in writing your content or crafting your lead generation strategy with Guides.co.
Staff pick (for a weekend read): Shopping for the Zombie Apocalypse, because preparation is everything.